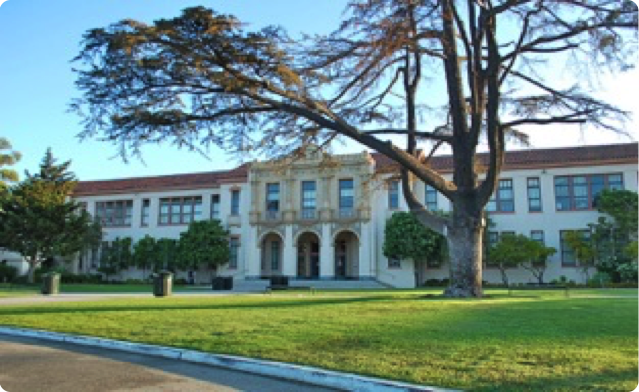 Santa Barbara High School
Class of 1969
If you have updated contact information for any
of our missing classmates, please send to:
Tim Gilles
A Blast From the Past
Over the years, classmates have submitted photos to share.
Enjoy!
Dear Classmates and Friends,
Thank you to one and all for making our 50th reunion fantastic!
Sam Cunningham put it best when he reminded us that we all
knew each other BEFORE our adult adventures began and
made pretty powerful connections for life.
• Our weekend activities commenced with the Friday evening
cocktail party at Harry's, and there were so many people (200+!)
that we spilled out of the Ranchero Room at both the
front and back. Standing room only!
• The Carriage Museum dinner dance on Saturday was one for the history books.  We had over 200 people enjoying the delicious dinner, the entertaining emceeing of the Drum Major himself Mitch Perry,
and some special comments from our classmate
Sam Bam Cunningham.  The dance floor was crowded all
evening long, thanks to The Duquanes, who brought
together members of their original band to perform.
The evening was a blast!
• The success of our reunion was the result of amazing teamwork
of committee members, volunteers from other SBHS classes,
and many of you. Everyone pitched in to help where needed,
including before the event when committee members and
classmates encouraged friends to attend, and Kate Ford's
email blasts were frequent reminders of the fun to come.
• We now hope to see many of you at the ALL-ALUMNI get together
at the SBHS flagpole on Saturday afternoon, October 5, because
"Once a Don, Always a Don." Otherwise, stay tuned for information about our 70th birthday party in a couple years!
• We're very grateful to our 2019 Reunion Committee members:
Phil Unander, Chair
Tim Gilles                                              Vicky Nishihara Woolford
Eldon Shiffman                                   Susie Herziger Roberts
Lynn Porter                                          Bill Henebry
Kathy Johnston McGee                    Mary Lou Murrell Mankowski
April Hadley Montoya                      Jenny Cabrera Tanner
Betsy Matthew Turner                     John Tanner
Kate McCloskey Ford                       Margie Mullen Palonen
Finally, perhaps singer Tim McGraw said it best:
"We all take different paths in life, but no matter where we go,
we take a little of each other everywhere."
Cheers.